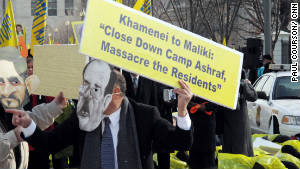 White House talks on Iraq's Camp Ashraf draw protesters
CNN - December 12, 2011 - Several prominent Americans joined Iranian opposition activists Monday in a noisy demonstration outside the White House, urging President Obama to discuss what may soon happen at a refugee camp as the United States leaves Iraq.
The Iraqi government plans to close Camp Ashraf northeast of Baghdad at the end of December, without clear assurances the refugees will be protected against attacks by Iraqi forces and reprisals from neighboring Iran.
Iraq extends deadline for Iran camp closure
AFP – Dec 21, 2011 - BAGHDAD — Iraqi Prime Minister Nuri al-Maliki said on Wednesday that his government had agreed to extend a year-end deadline for the removal of Iranian dissidents housed in a camp northeast of Baghdad.
Camp Ashraf, which is home to around 3,400 Iranian refugees hostile to the regime in Tehran, is now set to close in April, Maliki said at a news conference in the Iraqi capital.
Camp Ashraf protest descends on White House (PHOTOS)
December 12, 2011
ABC News – WJLA  - Hundreds of protesters, clad in yellow ponchos and waving yellow flags and photos of prisoners, made their voices heard near the White House over the planned closure of Camp Ashraf, which houses thousands of Iranian dissidents inIraq. The United Nations calls the closure of the camp, slated for Dec. 31, 'ill-advised.'
Obama and Iraqi Premier Signify Shift to a Postwar Partnership
New York Times - December 13, 2011 - Unresolved issues include the status of Camp Ashraf, where thousands of dissident Iranians have been labeled terrorists and detained,..
Outside the White House, about a thousand supporters of the Iranian dissident group the Mujahedeen Khalq, known as M.E.K., rallied to demand that the group be removed from the State Department's list of terrorist groups, and that the residents of Camp Ashraf be protected. They waved yellow banners and were addressed by Tom Ridge, the former secretary of homeland security, and other former senior officials, who support their demands.
SAVING CAMP ASHRAF
THE WASHINGTON TIMES - DECEMBER 12, 2011  - More than 60 members of Congress and a human rights commission named for the only Holocaust survivor to serve in the House are urging President Obama to use his Monday meeting with the prime minister of Iraq to demand he protect Iranian dissidents in Camp Ashraf.
The letters sent to the White House on Friday are the latest developments in a growing U.S. campaign to prevent Prime Minister Nouri al-Maliki from closing the former military base north of Baghdad by the end of this month.
THE WASHINGTON TIMES - DECEMBER 12, 2011 -
 Outside the White House on Monday, a large group of protesters rallied in support of Iranian exiles at Camp Ashraf, which is located about 40 miles north of Baghdad. The Iraqi government has set a Dec. 31 deadline to close the camp, which houses members of the Mojahedin-e Khalq (MEK), listed by the U.S. as a terrorist group. The exiles' supporters fear the camp's unarmed residents will be massacred because of their opposition to Iran's government. Current and former members of Congress, former officials who served in Republican and Democratic administrations, a former Iraqi official and a former senior commanding officer at Camp Ashraf spoke at the protest. "We did not fight and die … for you to deliver the integrity of Iraq to the mullahs in Iran," said former Sen. Robert G. Torricelli, New Jersey Democrat, in remarks directed at Mr. al-Maliki. Former Pennsylvania Gov. Tom Ridge, who served as homeland security secretary in the George W. Bush administration, called on the Obama administration to take the MEK off the U.S. list of foreign terrorist organizations. Army Brig. Gen. David Phillips, former senior commanding officer at Camp Ashraf, said he found no evidence linking the camp's residents to terrorist acts. "A few had unpaid parking tickets in the United States," he said. "That shows you how thoroughly we did the research on who they were. "Former Pennsylvania Gov. Edward G. Rendell suggested that U.S. Marines be left in Iraq to ensure the safety of Camp Ashraf residents. All U.S. combat troops are scheduled to leave Iraq by the end of this month. Mr. Freeh warned of an imminent "genocide" at Camp Ashraf. MEK leader Maryam Rajavi addressed the rally via teleconference from France. She said the al-Maliki government had turned Iraq into the "backyard of the Iranian regime" and accused the Obama administration of obstructing a European Parliament plan to relocate the camp's residents. "The people of Iran and the United States will judge you on the basis of what you did when you could stop a great carnage," she said. "One day, you will severely criticize yourselves for the events unfolding these days and for wasting time," she added. As U.S. Withdraws From Iraq, We Must Still Keep Our Promise to the Residents of Camp Ashraf
Monday, President Obama welcomed Iraqi Prime Minister Nouri al-Maliki to the White House with the declaration that U.S. troops were leaving Iraq with "heads held high." But while administration spin-misters are promoting the so-called deepening strategic partnership between the United States and Iraq, an emboldened and increasingly defiant Maliki is quickly moving forward with sinister preparations of his own that threaten to jettison President Obama's mission-accomplished moment.
In collusion with the Mullahs terrorist regime in Tehran, the Iraqi Prime Minister is planning a Srebrenica-style massacre of 3,400 unarmed Iranian dissidents living in his country at Camp Ashraf---each and every one of whom was given a written guarantee of protection by the U.S. government. I was the general who delivered that promise to the residents of Camp Ashraf in 2004.