THOUSANDS DEMONSTRATE OUTSIDE THE STATE DEPARTMENT, CALLING FOR DELISTING IRAN'S MAIN OPPOSITION MOVEMENT, THE MEK AND PROTECTION OF CAMP ASHRAF
WASHINGTON, Aug. 26, 2011/PRNewswire-USNewswire/ — This morning, thousands of Iranians from 41 states across the U.S. staged a huge and colorful rally outside the State Department urging the immediate delisting of the Mujahedin-e Khalq (PMOI/MEK), Iran's main opposition movement. They also called for ensuring protection of MEK members in Camp Ashraf, Iraq, according to Human Rights and Democracy International.
The ensuing march stretched several blocks around the State Department. The police were very cooperative by blocking the lanes for the peaceful marchers.
Among the participants were more than 100 university professors, eminent scholars and physicians from all over the U.S.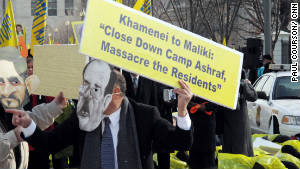 White House talks on Iraq's Camp Ashraf draw protesters
CNN - December 12, 2011 - Several prominent Americans joined Iranian opposition activists Monday in a noisy demonstration outside the White House, urging President Obama to discuss what may soon happen at a refugee camp as the United States leaves Iraq.
The Iraqi government plans to close Camp Ashraf northeast of Baghdad at the end of December, without clear assurances the refugees will be protected against attacks by Iraqi forces and reprisals from neighboring Iran.
JOIN THE CONGRESSIONAL PHOTO EXHIBITION:
While the Arab Spring is on the rise, youth and families of Iranian American communities from 41 states rise in support of an Iranian spring.
Join the photo exhibition and video presentation about the role of the youth in Iran and in America to bring about change in Iran 
DATE: THURSDAY SEPTEMBER 15, 2011
TIME: 11:30 AM – 4:00 PM
LOCATION: CHOB – ROOM 334
U.S. HOUSE OF REPRESENTATIVES
Subcategories